CPR Invest Hydrogen
Hydrogen: let's power our net zero future

Hydrogen: a key solution for tomorrow's net zero economy
A core global equity investment solution encompassing the entire Hydrogen value chain and integrating a sustainable investment framework
For fund details
Looking for further information ?
Please contact our dedicated team who will address your concerns as quickly as possible.
In brief
To grasp the full potential of the Hydrogen theme, our solution CPR Invest Hydrogen encompasses the entire Hydrogen value chain, upstream to downstream.
To achieve this, the investment universe revolves around 4 main dimensions:
Green Power Generation;
Hydrogen Tech Components;
Production, Storage & Distribution and
Hydrogen Users.
In order to obtain a responsible investable universe, we apply multifold rigorous sustainable filters.

The reasons to invest
Bridging the gap to net-zero
The climate change emergency calls for global commitments to net zero CO2 emissions by 2050. Renewables alone, are not sufficient to achieve this target.
Hydrogen as a clean burning molecule, a versatile energy carrier and an effective energy storage solution has the potential to bridge our decarbonisation objectives.
Cleanly produced hydrogen and its derived fuels can act as a green energy vector and decarbonize hard-to-abate sectors, sectors difficult or impossible to electrify, as well as empower the share of renewables by serving as a storage medium for excess energy.
The "Hydrogen Economy" cleared for take-off
The path to large-scale clean hydrogen deployment is being favored by:
Global decarbonisation & sustainability concerns
Impressive innovations & advancements in the hydrogen technologies
A lowering production price trajectory
Strong financial support by both public and private actors.
The transition to clean hydrogen would drive $11 trillion worth of investments in infrastructure and create more than 30 million jobs globally by 2050.

Our approach to Hydrogen: an overview of the investment universe
As we all have a role to play, investors can make a significant and positive contribution by supporting the entire hydrogen value chain and accompanying its transition to green hydrogen. At the forefront of innovation and constantly committed to identifying long-term investment solutions revolving around the biggest challenges of our century, CPR AM is proud to propose CPR Invest – Hydrogen. This global equity fund provides a unique response to the climate change challenge by supporting the already investable and developing hydrogen economy, which offers significant growth potential.


Investment Process
The fund's objective is to outperform global equity markets over a long-term period (minimum of five years) by investing in international equities of companies involved in the entire hydrogen economy from green power generation and hydrogen tech components to production storage and distribution, and lastly hydrogen users.
The investment process integrates a sustainable approach through Environmental, Social and Governance (ESG) criteria. As such, companies with the worst ESG behaviours and highest controversies are excluded from the investment universe.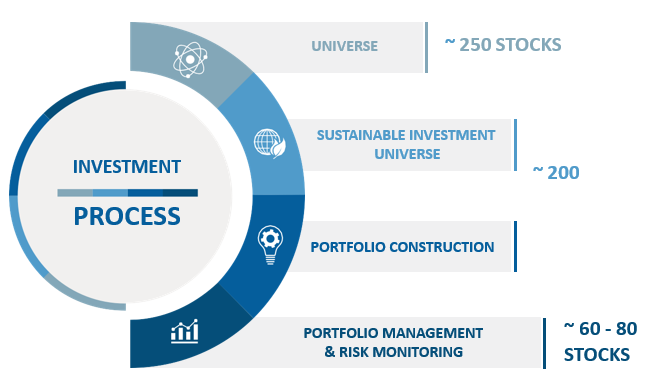 The fund's investment approach is also based on a robust risk-adjusted portfolio construction and an active portfolio management.
The final portfolio includes between 60 and 80 stocks.

Points of attention
Risk of capital loss
No performance guarantee
Recommended investment period: more than 5 years
The variance in the share price may have a negative impact on the sub-fund's net asset value
A decrease in the exchange rate may result in a loss in the sub-fund's net asset value
Due to its composition and strategy, the sub-fund may experience high volatility, which may lead to upward or downward fluctuations in the net asset value over short periods
The theme distinguishes itself by its sector choices; when the financial markets are driven by sectors not included in the theme, the sub-fund may not benefit from all the market growth