CPR Invest Global Silver Age
TAP INTO AGEING TO INJECT
YOUTH INTO YOUR INVESTMENTS

A strong investment theme driven by a long-term trend
A multi-sector approach: 8 promising sectors identified
Active, conviction-based management
For fund details
Looking for further information ?
Please contact our dedicated team who will address your concerns as quickly as possible.
In brief
CPR Invest Global Silver Age aims to capitalize on a promising theme, the ageing of the population, by investing in high-potential companies.
It aims to outperform the global equity markets over a minimum five-year investment horizon by investing in companies that serve seniors, whose percentage of the population is rising constantly.

THE AGEING OF THE POPULATION: A MAJOR SOCIAL CHALLENGE
The ageing of the population is already a reality, and this demographic phenomenon will inevitably accelerate in the coming decades. It offers an opportunity to develop new products and services.
To cite one example, in the last 18 years, companies whose business is related to the ageing population have achieved average revenue and earnings growth that has outperformed the global market(1). This trend is expected to gather strength.
Share of seniors (60 years and older) in the overall population(2)

(1) Source: CPR AM analysis. Difference between the median growth rate of MSCI World ND companies and the CPR Invest- Global Silver Age investment universe at 30 June 2015 (source: FactSet). Period reviewed: 1996 to 2014. The global market is represented here by the MSCI World ND.
(2) Source: United Nations Population Division, World population, the 2012 revision, DVD edition, 2013
Note: The borders shown on this map do not imply official approval or acceptance by the United Nations

ACTIVE AND CONVICTION-BASED MANAGEMENT
Within a universe of about 615 companies related to the ageing of the population, the managers apply a demanding fundamentals-based selection to keep only about 140 of them in the portfolio. Similarly, the strong responsiveness of sector exposures is a major source of the fund's added value.

615
Number of stocks in the investment universe
8
Number of sectors identified
140
Number of stocks in the portfolio

AN ORIGINAL APPROACH
CPR Invest Global Silver Age aims to capitalize this structural trend and its resulting investment opportunities by selecting eight promising sectors that meet seniors' key needs and high-potential stocks within those sectors.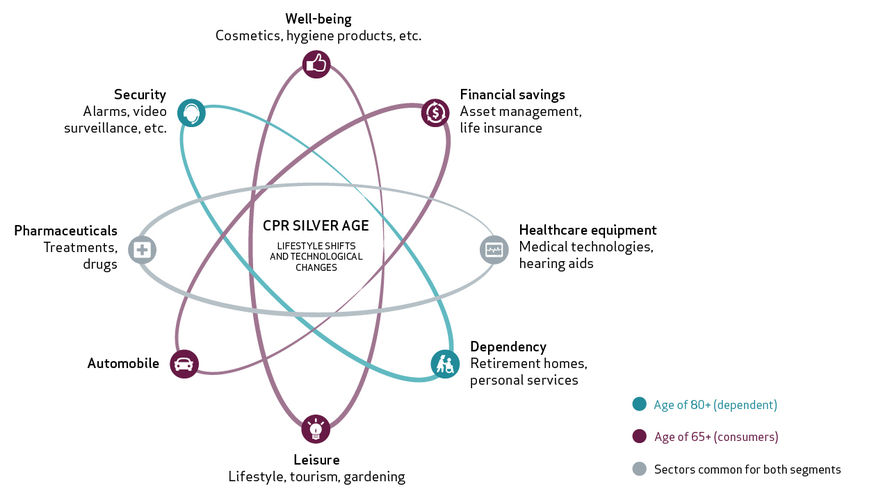 Keep an eye on
Risk of loss of principal.
No guaranteed returns.
Recommended investment horizon: at least five years.
Shifts in equity prices may have a negative impact on the fund's/subfund's net asset value
A decline in the exchange rate can lead to a loss of value.