CPR Invest Blue Economy
Because protecting our planet requires a sea change
For fund details
Looking for further information ?
Please contact our dedicated team who will address your concerns as quickly as possible.

The reasons to invest
The oceans, a vital resource under threat
Oceans and coastal ecosystems are the first producer of oxygen on Earth, far ahead of forests. They also play a major role in absorbing CO2 emissions.
Although they are true climate regulators and vital resources for mankind, they are under threat from human activities. Threats include global warming (leading to acidification, higher sea levels and higher water temperatures), overfishing, plastic waste and water pollution.
Acting to protect oceans therefore requires taking urgent action to limit greenhouse gasses, sustainably exploiting the resources they provide to us, and controlling the negative impacts we have on them.
The world's seventh-largest economic power
The value of ocean economy is estimated to $24 trillion. This "blue economy" generates GDP of $2.5 trillion annually. If oceans were a country, they would be the world's seventh-largest economic power!
Indirect output (from coastal activities, tourism, etc.) accounts for almost one third of this value, followed by direct output (fishing, algae farming, etc.), marine transportation, and oceans' environmental benefits.
The OECD estimates that the ocean economy will account for 5% of global GDP in 2030, and that the number of jobs related to it will have risen by 130% from 2010 to 2030, led by offshore wind power and harbour activities.
Our comprehensive and transparent sustainable approach
To tap into the blue economy's potential growth and to help protect the oceans, we have defined an investment universe through two prisms:
the marine ecosystem, including aquaculture, commercial fishing, seaborne transport, biotechnologies, infrastructures, renewable energies, tourism, healthcare and other areas;
activities that help preserve oceans, including managing waste and water quality, carbon sequestration, etc.
This obviously comes with a 360° sustainable approach from the universe definition to portfolio construction and including dialogue and engagement with companies, as well as backing major ocean-related initiatives.

Investment Process
The fund's objective is to outperform global equity markets over a long-term period by investing in international equities involved in the Blue Economy defined as the sustainable use of marine resources and the protection of marine ecosystems.
The investment process integrates a sustainable approach through Environmental, Social and Governance (ESG) criteria. As such, companies with the worst ESG behaviours and highest controversies are excluded from the investment universe.
The fund is actively managed. Stocks are selected according to a combined top down and bottom up approach. The final portfolio including between 60 and 80 stocks seeks to reconcile the search for performance and the improvement of extra-financial indicators.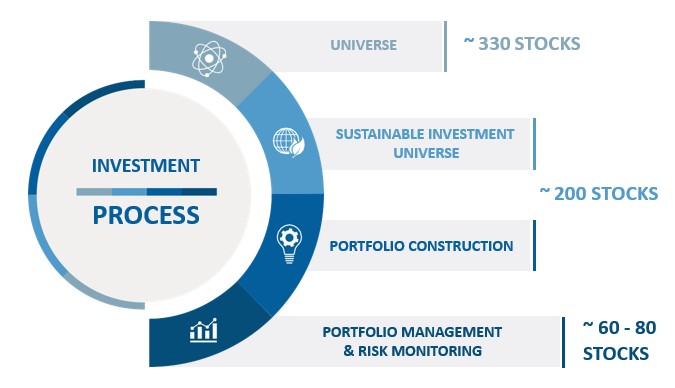 Points of attention
Risk of capital loss
No performance guarantee
Recommended investment period: more than 5 years
The variance in the share price may have a negative impact on the sub-fund's net asset value
A decrease in the exchange rate may result in a loss in the sub-fund's net asset value
Due to its composition and strategy, the sub-fund may experience high volatility, which may lead to upward or downward fluctuations in the net asset value over short periods
The theme distinguishes itself by its sector choices; when the financial markets are driven by sectors not included in the theme, the sub-fund may not benefit from all the market growth